THIS EVENT HAS ALREADY HAPPENED
Just Friday's @ Hudson River Cafe! - Mention the MDJ Guestlist @ the Door
Friday, 03/23/2012, 11:00pm - 4:00am
GRAND OPENING:
JUST FRIDAY'S @ HUDSON RIVER CAFE
697 West 133 Street New York, NY 10027
MUSIC BY: DJ HEAVYNESS
TOP 40 - Hip Hop - Mainstream - Reggae - Latin
LADIES FREE TIL 1AM - GENTS FREE TIL 12AM
MENTION THE MDJ GUESTLIST AT THE DOOR FOR FREE AND REDUCED ADMISSION
IF YOU ARE CELEBRATING YOUR BIRTHDAY, JOIN US! FREE CHAMPAGNE BOTTLES ARE AVAILABLE WITH INQUIRY* - E-MAIL RSVP@DJHEAVYNESS.COM TO RESERVE A TABLE!
Bottle Specials: 2 Bottles for $225 until 12:30 AM*
----------------------------------
On Friday March 9th we celebrate the Grand Opening of Just Friday's @ Hudson River Cafe in Manhattan.
This is brand new weekly party, new atmosphere & as always beautiful people! An eclectic mix of music playing the best of everything! Join us for a great night!
Mention the MDJ GUESTLIST at the door for Free & Reduced Admission!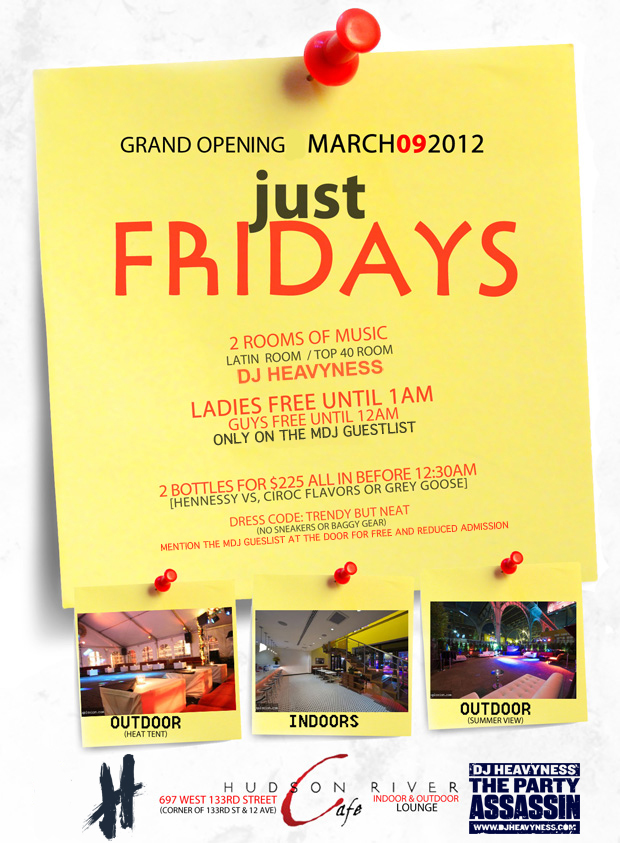 | | |
| --- | --- |
| When | Friday, 03/23/2012, 11:00pm - 4:00am |
| Where | The Hudson River Cafe, 697 West 133rd Street, New York, NY 10027 |
| Guestlist | This week's guest list is no longer open. |
| Admission & Cover | LADIES FREE TIL 1AM - GENTS FREE TIL 12AM MENTION THE MDJ GUESTLIST AT THE DOOR FOR FREE AND REDUCED ADMISSION |
| Age | 21+ |
| DJ/Music/Crowd | TOP 40 - Hip Hop - Mainstream - Reggae - Latin |
| Hosted By | MDJ Entertainment - Mention our guestlist at the door for free and reduced admission |
| Door By | MDJ Entertainment |
| Pageviews | 5736 views |