Upcoming Events
Saturday, October 31, 2020 10:30 PM
Bounce Halloween Party
Unleash your inner wild child with a terrific Halloween party at New York City's Bounce Downtown. Put on your Halloween costumes and head to Bounce Downtown, the upscale bar-slash-nightclub, for a dance party set to performances by DJ Ammo. Located steps from Madison Square Park, Bounce is a high-end take on the bar and lounge. Th..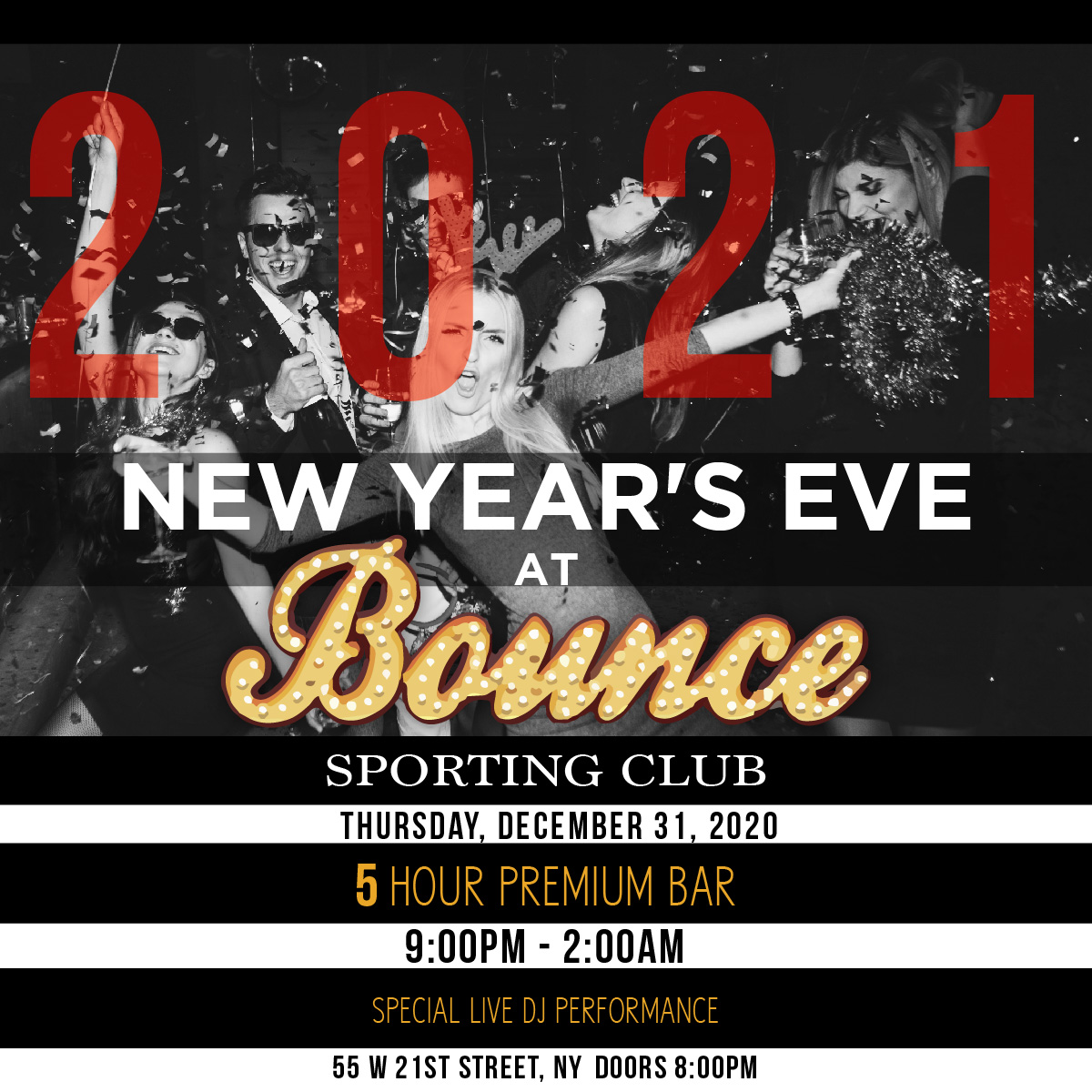 Thursday, December 31, 2020 8:00 PM
Bounce
Chic nightclub meets lively bar this New Year's Eve at Bounce Downtown—the premier bar-club located in New York's Flatiron District. For the winning match-up of upscale luxury and trendy bar, venture over to NYC's Bounce Downtown to celebrate your New Year's Eve in style.A favorite amongst New York's high-rollers, Bounce Downtown is the most glamo..
More Events at This Venue
Why You Will Want to Celebrate at Bounce
In the hotly competitive NYC nightlife realm, Bounce has risen to the top – known for hosting religiously loyal locals and epic parties. The hotspot between the Flatiron District and Chelsea is moments away from Madison Square Park and the famous Flatiron Building, but nightlife devotees will tell you it's a world all its own.
Famous for both brunch and its nightlife, Bounce hosts events that go well into the morning – giving the term "sports lounge," a whole new meaning. Dance amidst jet black columns and tufted leather banquets to the tune of a live DJ's epic set list. Quench your thirst at a long, impressively stocked bar where bartenders refill your cocktail of choice again and again. The energy in this hotspot is infectious on any day of the week, so whether you're there for a game or the twelve beers on draft – you're destined to have a good time. Bounce is beloved for its unpretentious vibes and luxury accents that get a nod from celebrities like Q-tip, Mario Lopez and Ne-Yo.
Fetty Wap hosted Bounce's epic event this past Halloween, and New York still isn't done talking about it. So get ready to bring your A-game when you walk through the doors of Bounce Downtown – this is New York City's favorite place to party.
Location and Hours
Bounce
55 W 21st St New York NY