Whether you're throwing a party or spending the night at home this St. Patrick's Day, nothing adds to your festive menu like these deliciously spiked sweets. Guinness, Jameson, and Bailey's add an irresistible touch to these classic confections that will make you wonder why every dessert isn't just a little bit boozy. Enjoy with friends or alone for the guiltiest St. Patrick's Day ever.
1. Guinness Chocolate Cheesecake
If chocolate cheesecake wasn't decadent enough, allow Guinness to step in and take this creamy slice of heaven to a whole new level of chocolatey beer goodness.
Via closetcooking.com
2. Guinness Brownies
These Guinness brownies are my two favorite things on the planet converging into one single square of cocoa bliss. I'm almost afraid I won't be able to handle the intensity, like looking straight at the sun.
Via lifeloveandsugar.com
3. Chocolate Stout Cake
A stout beer like Guinness adds a level of complexity to your typical chocolate cake that's subtle enough to kick up the flavor without being immediately detectable as beer. But you'll know.
Via smittenkitchen.com
4. Irish Car Bomb Cupcakes
Guinness stout chocolate cake, Bailey's buttercream frosting, and a whiskey ganache surprise in the center make these cupcakes impossible to resist. But unlike the traditional Irish Car Bomb, you don't have to eat the whole thing at once. In fact, you'll want to savor every last bite.
Via readytoyumble.com
5. Apple Crumble with Irish Whiskey Cream
Warm whiskey spiked apples are topped with buttery brown sugar crumble and a generous dollop of whiskey spiked whipped cream that's sweetened with honey. Top with a scoop of (spiked?) vanilla ice cream.
Via kerrygoldusa.com
6. Chocolate Caramel Tart with Irish Whiskey
Chocolate, caramel, coffee, and whiskey combine to make this the most decadent Irish coffee you've ever tasted. The good news is that you can have as many pieces as you want and still be ok to drive.
Via 84thand3rd.com
7. Mint Chocolate Chip Cookies with Jameson
The mint extract in these boozy bites of heaven adds a delicious twist reminiscent of a grasshopper. Plus, the Jameson really comes out to play on the palate. Woot! Add a drop of green food coloring to make them look festive.
Via whiskeyriff.com
8. Whiskey Bread Pudding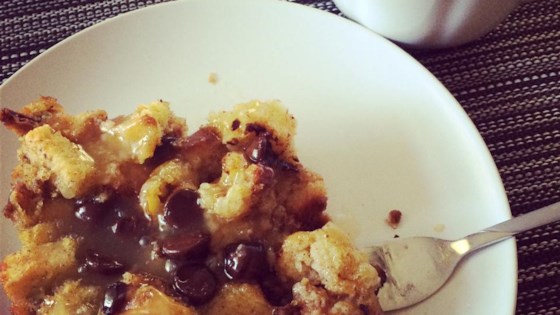 If you're unlucky enough to live in a place where the white stuff of winter is descending upon you, then you need this comforting whiskey bread pudding. Top with a warm, buttery whiskey sauce for pudding perfection.
Via allrecipes.com
Craving a pint to go with your creation? Go out on the lash with BarCrawls.com for a turned up celebration this St. Patrick's Day.